Technophany and Radboud University Press Partnership Announcement
2023-05-26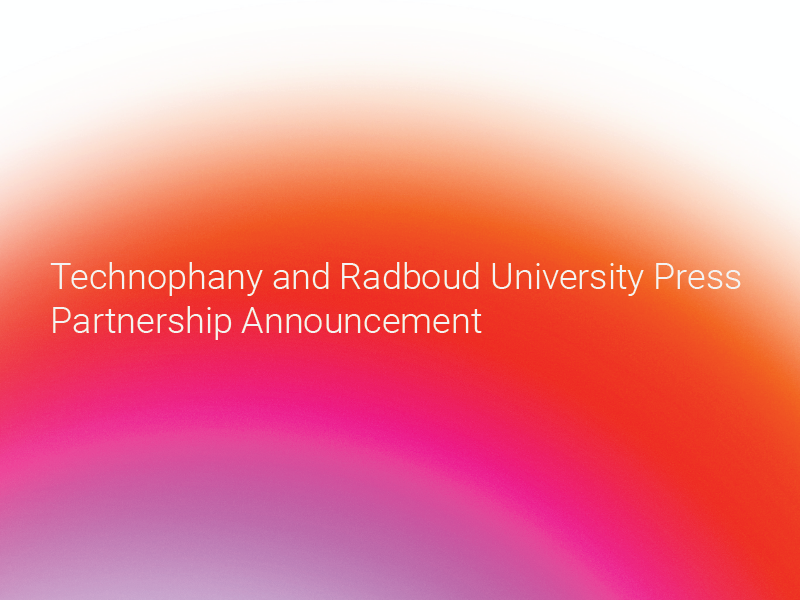 Technophany is delighted to announce a publishing partnership with Radboud University Press, an open-access publisher of high-quality academic peer-reviewed books and journals. It offers its publications free of charge for both authors and readers through the Openjournals platform. Technophany is a journal of the Research Network of Philosophy and Technology, dedicated to the philosophical and historical studies of technologies, supported by Hanart Forum. 
–  The journal publishes annually one general issue and one guest edited special issue. 
– Articles are assigned with DOI, made available online first through the journal's website and university library indexing; selected special issues will also be made available as hardcopy.
– The journal also includes a Commentary section which publishes timely articles responding to current debates
Technophany's first special issue dedicated to the study of technology in Latin America Local Futures Beyond Inclusion: Towards the possibility of latinamerican cosmotechnics (ed. by Ana María Guzmán Olmos, Hugo Esquinca Villafuerte) is now available online. Alongside the current general issue, three special issues are in preparation:  
– Techne and Feminism edited by Katerina Kolozova and Vera Bühlmann, 2023; 
– Entropies, edited by Joel White and Gerald Moore, 2023 and; 
– Computational Creativity, edited by Anna Longo, 2024. 
Call for Submissions:
Technophany is open for submissions of articles for general issues as well as reviews and commentaries. Abstracts may be submitted via Openjournals: https://technophany.philosophyandtechnology.network/about/submissions 
Proposals for Special Issues may also be made to: journal@philosophyandtechnology.network
About Technophany
Technophany is a journal dedicated to the philosophical thinking of science and technology. It is founded in view of the need to create a singular and unconventional space for reflections on philosophy and technology, which is diminishing today due to dogmatic academic practices and their reluctance to confront the challenges imposed by the industrial world. Technophany aims to facilitate original reflections and provocations on the philosophy and history of technology, and to contribute to the reshaping of the contemporary landscape of thought.

https://technophany.philosophyandtechnology.network/ 
About The Research Network for Philosophy and Technology
The Research Network for Philosophy and Technology was established in 2014 as a project to rethink the relation between philosophy and technology, and the future of this relation from planetary and historical perspectives. The network hopes to bring together different points of views and new thinking, based on solid historical research, philosophical speculations and experiments.

https://philosophyandtechnology.network 
About Radboud University Press 

Radboud University Press is a unique department at Radboud University. They are a Diamond Open Access publisher of high-quality academic peer-reviewed books and journals across a wide range of disciplines.
https://radbouduniversitypress.nl 
About Hanart Forum 漢雅精舍
Hanart Forum was established in 2022 as a discursive platform for contemporary thought, and a site for exploring diverse artistic practices. Hanart Forum is situated in a restored heritage building in Happy Valley, Hong Kong, an Edwardian-colonial style row house that dates from 1920. The site will be ready for projects by mid-summer 2023.